Our Partnership
with American Steel & Precast Erectors
Buckner Steel Erection and American Steel & Precast Erectors entered into a strategic partnership in early 2016. Both companies share family-owned values, history in the industry and established reputations that have come together to enhance the future of both entities.
The essential fabric of both companies remains the same, as this is not a purchase or a merger, but a true positive partnership. Joshua Cilley remains the President at AS&PE and has also become the President at Buckner Steel Erection, keeping a sense of continuity through the new endeavor. Doug Williams remains the CEO of Buckner Companies as well as, the new venture with Michael Holt acting as CFO and COO.
With this new venture, both companies gain resources, knowledge and support from each other to continue reaching new heights in our industry. This partnership allows both companies to work together with an increased commitment to the steel industry.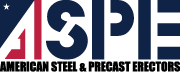 Steel & Precast Industry Experts
Buckner Companies offers 70 years of experience in the steel erection, heavylift crane and industrial rigging industries. As a division of Buckner Companies, Buckner Steel Erection has completed some of the most advanced and complicated projects in our industry with a focus always on safety, quality and excellence. Likewise, American Steel has become one of the largest merit shop steel and precast erectors in New England. American Steel is recognized as a leader in the steel and precast industry, demonstrating its dedication to the Northeast and Canada through integrity, reliability and excellent quality.
Dedication to Excellence and Customer Success
Founded in 1947, Buckner is family owned and operated with a strong reputation for integrity in the industry. Buckner is a leader in the steel industry and endeavors to be an essential part of every customer's success. American Steel & Precast Erectors (AS&PE) share in the same values that Buckner has held over the last 70 years. Founded in 1982, American Steel & Precast Erectors is a family-owned business with a long history of offering the highest quality precast and steel erection services available. With a commitment to service, workmanship, customer satisfaction and safety, AS&PE is consistently exceeding expectations on every project.