Buckner Wellness Offers Heart Healthy Cooking Lessons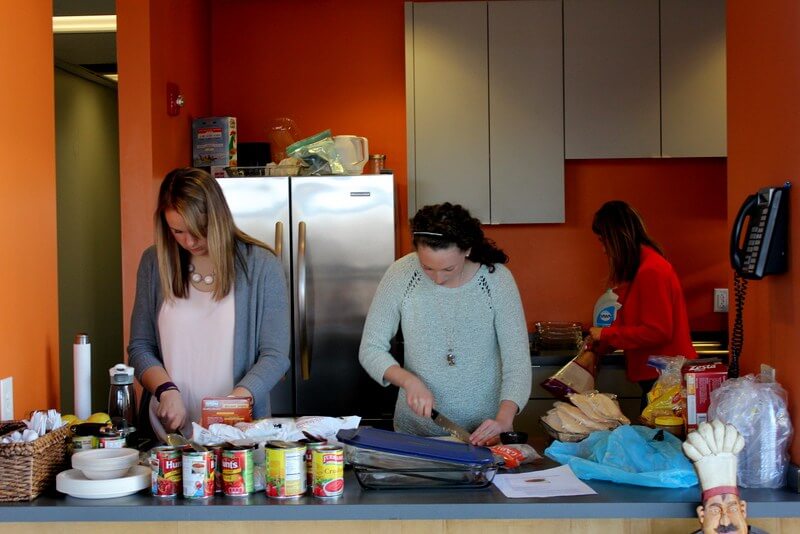 Buckner Wellness Offers Heart Healthy Cooking Lessons
Heart disease is the cause of 1 in 4 deaths for men each year in the US, and 1 in 3 for women. Buckner Companies takes special interest in our employees' health. With heart disease statistics high, we want to provide heart healthy information. There are many ways we can improve our own heart health and even take steps to reverse heart disease.
In February, Buckner Wellness focused on providing heart healthy strategies for disease prevention and health promotion. One of our activities included a cooking class focusing on easy tips and techniques for cooking heart healthy meals. We invited three University of North Carolina Public Health graduate students within the Registered Dietitian program to demonstrate a cooking class for Buckner employees. Jenna White, Taylor Christensen, and Sofia Al-Banna developed a delicious, simple to prepare, and heart friendly menu. The menu consisted of ingredients encouraged by the American Heart Association, Fish Veracruz with whole-wheat pasta, and green beans.
First, they showed us how to prepare and cook the meal. Then, they served the prepared lunch to our 15 hungry Buckner participants, with lots of questions, laughs, and tips in between. While most of our participants already cook regularly, the dish was one that none of us had tried before. We also learned a few useful techniques such as, using broth rather than extra oil for cooking greens and keeping frozen chopped vegetable stocked in our freezers for the days when we're in a rush or fresh veggies aren't in season. Sitting down to the delicious meal, we had the chance to share our own cooking tips and stories and to inspire more ideas for delicious, healthy meals.
Coming up in March, Buckner Wellness will be celebrating National Nutrition Month with resources for developing an individualized diet plan with a nutritionist, a challenge to help us add more color (and therefore nutrients) to our diets and another cooking class! Stay tuned for more Buckner Wellness stories and tips!