Buckner Industrial Rigging Completes Overhead Crane Wheel Replacement in 9 Days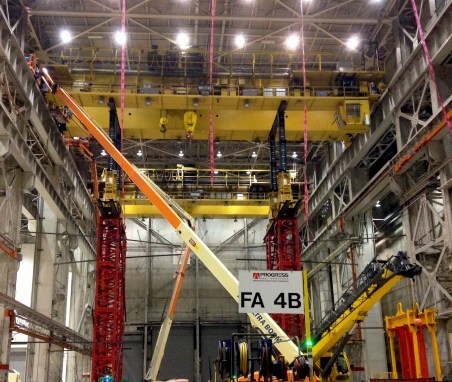 Buckner Industrial Rigging Completes Overhead Crane Wheel Replacement in 9 Days
In November of 2015, Buckner Industrial Rigging was awarded a project with their client to replace end truck wheel assemblies on two 55 year old overhead cranes for a project located in Indiana. A timely turnaround was necessary to insure the loss of production was limited to the owners scheduled shutdown.
The two overhead cranes originally built in 1960, weighed 220tons each and relied on 16 wheel truck assemblies for operation. The truck assemblies were worn and required replacement. Each crane needed to be lifted off the crane rails in order to remove the existing truck assemblies. Working within the confines of the building at an 80ft elevation, Buckner's millwrights used their shoring tower and hydraulic gantry systems to safely lift the overhead cranes to remove the existing truck assemblies. They employed carbon arc gouging to cut off the end truck assemblies and prepared all surfaces for the installation of the new assemblies. Once the assemblies were removed and surfaces finitely prepared, the team lifted the new assemblies into place, aligned them, completed the welding process, and finished the installation of the new truck assemblies.

Buckner Industrial Rigging and their client successfully completed the entire job in 9 days, working 24 hours around the clock through the Thanksgiving holiday. This once again shows Buckner's commitment in becoming a stake holder in the client's project ensuring deadlines were achieved or exceeded. The timely demo and installation of the end truck assemblies for the two 55 year old overhead cranes allowed the owner to start operations on schedule. For more information on how Buckner Industrial Rigging can help with your next turnaround project, contact Nick Leveski at Nickl@bucknercompanies.com or call him directly at 336.213.9034.