Buckner HeavyLift Cranes Supports Complex Heat Exchanger Installation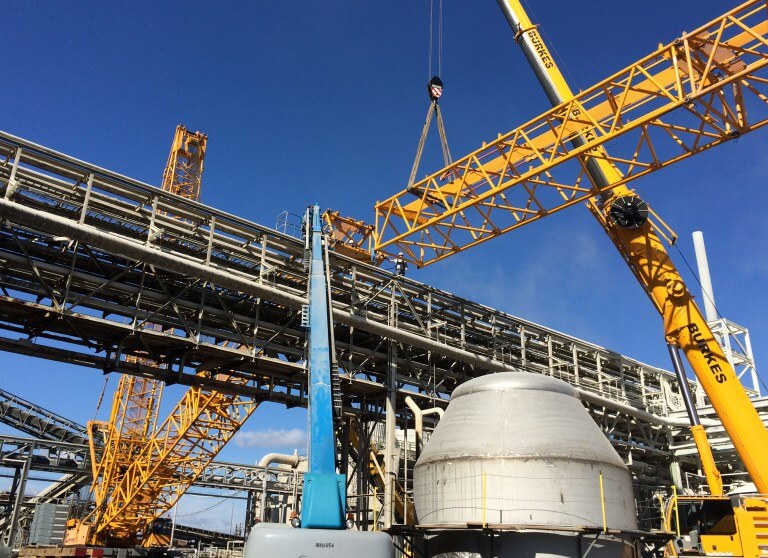 Buckner HeavyLift Cranes was awarded a project in Fall of 2014, working with Burkes Mechanical to install a new heat exchanger in an active paper mill. The project required careful attention and constant communication to ensure safety as the crew assembled the crane over existing process pipe racks carrying caustic chemicals and process electrical, which feeds the complete operation of the plant. The project was completed successfully and safely, which allowed Buckner HeavyLift Cranes to be called back for a similar job at the same location in December of 2015.
Burkes Mechanical requested Buckner HeavyLift Cranes back to the paper mill to install another heat exchanger weighing 127,000lbs over several process lines, 170ft. in the air. Preliminary lift plans were submitted, showing the crane in position and the assist cranes needed to assemble components over the live process lines. Buckner HeavyLift's lift planner drew the final lift and assembly plans once the final weight and dimensions were submitted. The team began assembling their Liebherr LR 1400/2, configured with 256ft of main boom and super lift attachment.
The next step for the Buckner HeavyLift team was to assemble the derrick and 46ft of cantilevered boom above a 40ft structure containing live process lines. Then, the Buckner team preassembled 170ft of main boom on the ground to be lifted and flown into place to be pinned into boom sections already pinned to the crane. The remaining boom was then hoisted into place in the horizontal position with two assist cranes until the bottom pins could be connected. Once the bottom pins were in place, the boom was hoisted into position, and the top pins were connected for a total boom length of 256ft. Detailed attention and communication around the clock was necessary in order to ensure the main crane was not overloaded in its cantilevered position. Once the derrick was rolled into the working position, the main crane could support the weight of the boom, removing the load from the assist crane.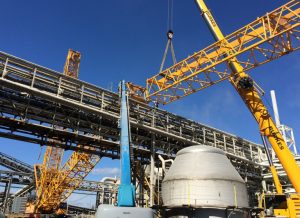 The Buckner team worked in stages between 70ft and 130ft in elevation, assembling the crane in a live paper mill plant. Engineered lift planning was critical to the safe operation of the assembly. Buckner HeavyLift's lift planning department performed ground bearing calculations, protection of underground utilities, sizing of the crane and boom configuration, and rigging requirements for not only the lift, but the critical assembly and disassembly process. The process in putting together a 440t machine in a confined space, inside an active paper mill, over live process lines was to say the least – difficult; requiring careful attention to safety and detailed engineered assembly/disassembly plans. The Buckner/Burkes Mechanical team yet again worked together for a safe and successful installation of the new heat exchanger.